Stress-Check
Stress and Fatigue Measurements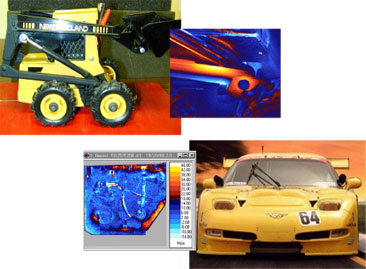 Modern Thermoelastic Stress Analysis (TSA ) shows:
Dynamic Stress Pattern Concentrations
Fatigue Limits
Crack Propagation
The MoviTHERM Stress-Check system supports advanced testing of metals, composites, plastics, glass, bone, concrete and more.
From Micro to Macro Thermoelastic Stress Analysis applications:
Test microscopic samples to entire aircraft, radar domes, and bridges.
Request a Quote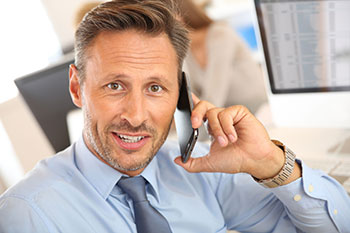 Get Started Today
Get in touch with our experts for a free consultation, or get a free quote. We will get back to you as quickly as possible.
Request a Quote

Visualization of Stress Patterns
(2" wide notched steel specimen)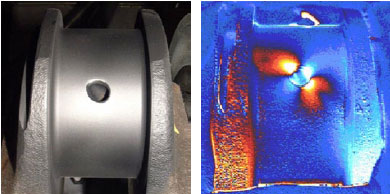 Truck Crankshaft in Torsion Test-around the lube hole.
Measurement time: 1 second
Design comparison (A vs. B)
Life and failure location prediction
FEM validation
Stress field visualization
Material Characterization
Check on "as-manufactured" design
Rapid stress analysis
Composite material damage analysis
Fracture Mechanics
Stress Check Video: Spring Steel Stress Inspection
A demonstration of MoviTHERM's Stress-Check themography solution for analyzing the performance of metal parts.
Stress Check Video: Automobile Steering Knuckle Stress Inspection
MoviTHERM's Stress-Check thermography solution for analyzing the performance of metal, composite and ceramic parts.