Solar-Check
Advanced NDT For Solar Panels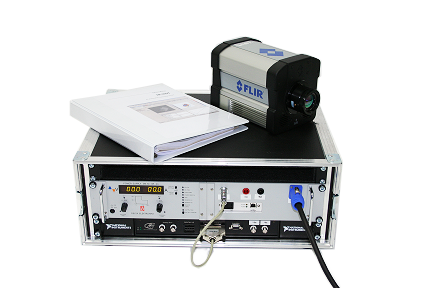 Turn-Key Solution for IR solar cell testing methods.
Simple and Accurate Shunt Detection
Optical and Electrical Excitation
Accurate Measurement Without Reflections
Improved Sensitivity
Ideal for Production testing and Research and Development
The MoviTHERM Solar-Check system, with appropriate stimulation sources and accessories, can be used for all common IR solar cell testing methods including
crack detection, shunt detection, emission analysis
and
carrier density measurements
.
Solar-Check is a turn-key system, complete with IR-Imager, excitation source and image processing software. The system can be customized to suit your production and testing process.
Request a Quote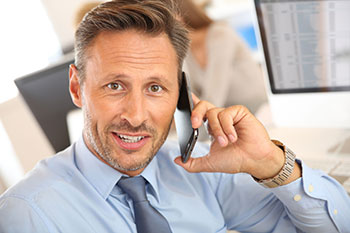 Get Started Today
Get in touch with our experts for a free consultation, or get a free quote. We will get back to you as quickly as possible.
Request a Quote
Shunt Detection – Simple and Accurate
Solar-Check addresses the critical need in the solar industry to efficiently and accurately detect shunts in thick-film and thin-film photovoltaic cells and panels.
Supports Optical and Electrical Excitation
Solar-Check is suitable for shunt detection in a production environment as well as in a research and development setting. Optical excitation allows for a true – non-contact inspection, enabling automated part handling.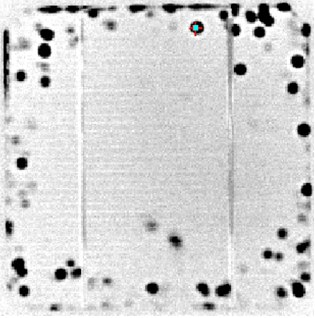 Dark spots indicate shunted areas in cell. Lock-in excitation frequency: 50Hz.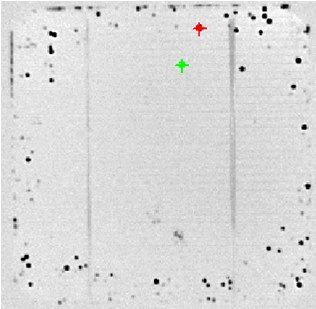 Same cell as on the left, this time with 200Hz excitation.
Accurate Measurements – Lock-in Eliminates Reflections
The lock-in technique used in the Solar-Check solution significantly enhances the appearance of the defects in the resulting thermal image. Reflections and the adverse effects of thermal diffusion are eliminated, thereby pinpointing defect locations.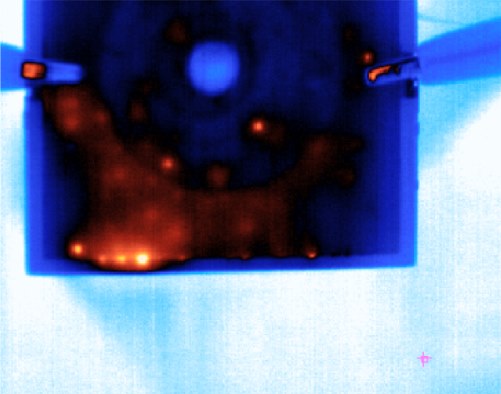 IR image of 60x60mm silicon solar cell showing shunt defects (orange areas) under steady state reverse bias conditions. Also visible is the refection caused by the lens of the thermal camera in addition to significant thermal diffusion around the shunted areas.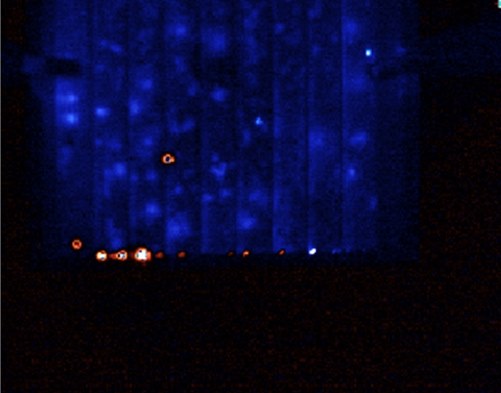 Same cell as image above. Here the "Lock-in" technique has been applied. All reflections and effects of thermal diffusion have been eliminated, hence allowing easy spotting of shunts.
Increased Sensitivity
Solar-Check's built in lock-in measurement technique only responds to thermal responses from the solar cell only at the exact excitation frequency; thereby dramatically improving the overall sensitivity of the system. Typical thermal camera sensitivity is around 25 mK, MoviTHERM's Solar-Check solution increases the system's sensitivity to the µK range!
MoviTHERM Solar Cell Inspection using Lockin Thermography
MoviTHERM's Solar-CHECK solution uses lockin thermography to inspect for electrical shunts and other defects in thin-film as well as in thick-film photo-voltaic cells. The cells can either be excited electrically or optically.
MoviTHERM Solar Cell Lock In Electroluminescence NDT Solutions
MoviTHERM's Solar-CHECK solution allows for inspection of solar cells. This particular method examines the electroluminescense when using electrical excitation of the cell.