Jet Check
Aircraft Inspection System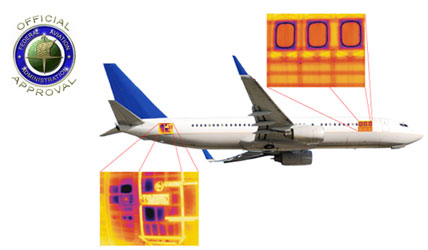 Turn-Key Aircraft Inspection System using Lock-in Thermography
Achieve fuselage inspections in 1/10th the time of your current method
Approved of the FAA
Currently used by Boeing, Luthansa and Airbus
Discover the next generation of thermography, delivering unprecedented speed, performance and flexibility.
Request a Quote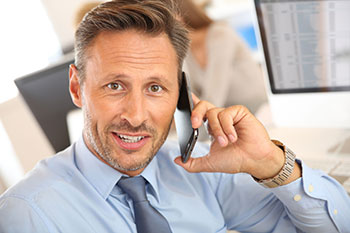 Get Started Today
Get in touch with our experts for a free consultation, or get a free quote. We will get back to you as quickly as possible.
Request a Quote
One complete inspection with Jet Check now takes in general between 4-5 shifts, this represents an effort of about 100 Man-hours. When compared to the "old-procedure" this represents a time-saving of about 1000 hours.
High Speed / Large Scale Measurement with Jet Check:
Covers 10 sq. ft. in a single measurement.
Entire fuselage of a Boeing 737 can be measured in 100 hours.
Jet Check Detects All Key Defects on a Variety of Materials:
Defects like delaminations, cracks, loose rivets and water inclusions are detected and displayed with excellent contrast. Suitable for different materials and material combinations, for example: aluminum, carbonfiber or glassfiber reinforced plastics and honeycomb structures.
True Non-Contact NDT Solution:
During the measurement the component reaches a maximum temperature of less than 40C.
Damages or changes of the shape are impossible.
Accommodates a Wide Range of Measurement Methods:
Depending on your application needs, Jet-Check can utilize a number of NDT methods:
Flash Thermography
Transient Thermography
Lock-In Thermography
Vibro-Thermography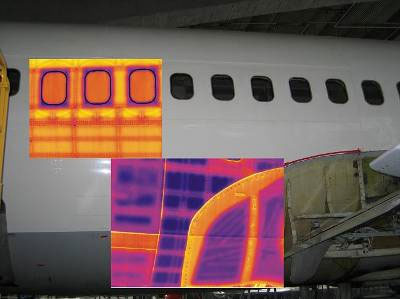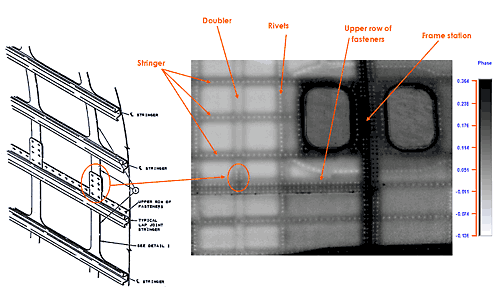 IR image (before) and lock-in result (after).
The disbonded area is clearly visible.
MoviTHERM Jet Check – Aircraft Inspection System Literature