Pan-Tilt Unit D300 RF – Antenna Positioner
The PTU D300 RF provides fast, accurate positioning of antennas and other RF equipment that require 360-continuous rotation. It supports payloads to 70 lbs., and its light weight and compact size make it ideal for mobile and portable applications. The dual-side mount configurations simplifies mounting of counterweights and a variety of antenna types.
Payloads to 70 lbs
Integrated slip-ring for 360-continuous pan rotation with DC-18 GHz RF pass-through (DC-26.5 GHz option)
Small form-factor
Position resolution down to 0.00625°
Pan/tilt speeds up to 100° / Sec.
Wide range DC voltage input
Request a Quote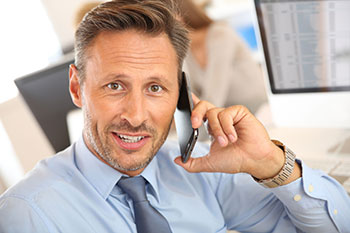 Get Started Today
Get in touch with our experts for a free consultation, or get a free quote. We will get back to you as quickly as possible.
Request a Quote
Pan-Tilt Unit D300 RF Overview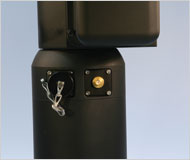 The PTU D300 RF extreme-duty computer-controlled positioner is designed for precise positioning of antennas and other RF equipment up to 70 lbs. It includes an integrated slip-ring and rotary joint for continuous pan-rotation applications for DC-26.5 GHz RF signals. Its light weight make it suitable for airborne as well as fixed or ground mobile/portable applications.
The real-time control capabilities make it well suited for antenna tracking applications such as air-to-ground and ground-to-air communications, communications-on-the-move, and shipboard communications.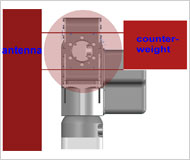 The controller is fully integrated. A single mil-style connector provides power and pan-tilt control, as well as payload signal management (optional). Integrated flex-circuitry absorbs tilt motion for all internal wiring to provide long life over high duty cycles.
The built-in command set offers both ASCII and binary formats. This command set supports real-time control at up to 60 commands/second with very low and predictable latencies. The rich command set provides fine-grained control of position (absolute and relative), velocity, acceleration and other unit functions. The optional Geo-Pointing Module also provides an Ethernet/IP interface for control of the pan-tilt units.
Pan-Tilt Unit D300 RF Specifications
| | |
| --- | --- |
| Max Payload Weight (nominal) | 70 lbs. |
| Position Resolution (°) | 0.00625° |
| Min Pan Speed | 0.00625 °/ Sec. |
| Max Pan Speed | 50 °/ Sec. (100° / Sec. with HS option) |
| Min Tilt Speed | 0.00625° / Sec. |
| Max Tilt Speed | 50° / Sec. |
| Pan Range | Nx360-continuous |
| Tilt Range | -30°/+90° (other ranges available) |
| Weight | 32 lbs |
| Height | < 17″ not including bracket |
| Operating Voltage | 12-30VDC |
| Environmental | IP67 |
| Operating Temperature | -30°C to +70°C |
* Pan-tilts support 1/2, 1/4, and 1/8 microstep modes as well as autostep mode, all software configurable. Quoted resolutions are for 1/8 step mode. Firmware default is 1/2 step. Torque and speeds are somewhat reduced at 1/4 and 1/8 step modes.
Documentation for PTU D300E Standard
Quick Configuration Guide – product configuration and accessories details
Options:
Dual-side mount configuration
Inertial Stabilization Module (ISM)
High Speed Pan
DC-26.5 GHz rotary Joint (special order)
Accessories:
Standard L bracket
Heavy-duty "L" bracket – top
Heavy-duty "L" bracket – side
Breakout cable
Power supply
Geo-Pointing Module (provides general Ethernet/IP interface, and/or Geo-Pointing functions)