IRSX Series – Smart Infrared Cameras
The first truly Smart Infrared Camera
The IRSX Series Smart Camera is the first intelligent, self-contained thermal imaging system on the market. Designed as an all-in-one solution, the IRSX camera combines a calibrated thermal imaging sensor with a powerful data processing unit. It offers a variety of industrial interfaces in a rugged IP67 housing, small enough to fit in the tightest of spaces.
Once installed, the IRSX Smart Camera communicates directly with your machine, process or PLC and becomes just another sensor. A variety of supported communication protocols also make the IRSX Camera a perfect candidate for Internet of Things (IoT) applications.
Request a Quote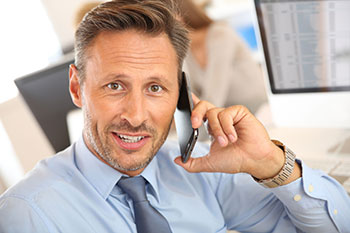 Get Started Today
Get in touch with our experts for a free consultation, or get a free quote. We will get back to you as quickly as possible.
Request a Quote
Unmatched Reliability, Reduced Cost
Using the IRSX Smart Camera eliminates the need for a PC with monitoring software, therefore reducing the complexity of your thermal imaging system substantially. In turn, this helps reduce cost, simplifies the installation and increases the reliability of your system. The rugged design of the IRSX camera with its anodized aluminum housing eliminates the need for a protective enclosure and allows the camera to fit into tight spaces.
Flexibility and Inspection in Real-Time
Different sensor resolution, frame rates, lens and housing options assure a perfect configuration for every application. The high-performance embedded processing unit built in to every IRSX camera performs all evaluations in real-time at the frame rate of the camera. This assures reliable performance for even the most demanding applications.
Seamless Integration & Communication
For a seamless communication with your automation and control equipment, the IRSX cameras feature a multitude of protocols, including HTTPS, ModBUS TCP, ProfiNET, OPC-UA and MQTT. They also have digital I/Os for control and alarming as well as an encoder interface, e.g. for part tracking products on a variable speed production line.
Easy Configuration via built-in Web-Interface
Thanks to a powerful and user-friendly web interface, configuring the IRSX camera is very intuitive. Creating complex thermal imaging applications has never been quicker and easier.
Camera Model
IRS336
IRS640
Detector Resolution
336 x 256 px
640 x 512 px
Detector Type
Focal Plane Array (FPA), uncooled microbolometer
Spectral Range
7.5–13 μm
Pixel Size
17 x 17 μm
17 x 17 μm
Frame Rate
9 Hz
60 Hz
9 Hz
50/60/200 Hz(with windowing)
Measurement
Object Temperature Range
Range 1: –25 to 135 °CRange 2: –40 to 550 °COptional high-temperature range: 200–1,200 °C (with ND filter)
Accuracy
±2 °C (±3.6 °F) or ±2 % of reading (10–100 °C @ 10–35 °C amb)
NETD
< 30 mK (f/1.0, range 1)
Lenses
Fixed Lenses
3.8 mm, 7.5 mm, 9 mm, 13 mm, 19 mm, 35 mm
Interchangeable Lenses
6 mm, 10 mm, 12 mm, 18 mm, 25 mm, 60 mm, 100 mm, zoom lens 35–105 mm, microscopy lens 20 μm
Image Processing
Configuration
Web interface
Areas of Interest
Spot, line, polyline, elliptical line, rectangular area,elliptical area, polygon area
Smart Realignment
Intelligent search and compensation algorithm to guarantee accurate temperature readings independent of e.g. machine or part tolerances
Temperature Evaluation
Min, max, mean, range, variance, standard deviation
Comparison Functions
Equal, less, greater, in range, out of range
Script Interface
Scripting with Lua
Interfaces
Ethernet Protocols
DHCP, DNS, GigE Vision, HTTP(S), mDNS, NTP, FTP, SSH, Modbus TCP, (MQTT (TLS), OPC-UA, PTP IEEE1588, Profinet (CC-A, RT-1), ONVIF)**
Ethernet Type
10/100/1,000 MBit/s
Ethernet connector
8-pin A-coded M12 connector
Image Streaming Protocol
GigE Vision with GeniCam, (RTSP)**
Ethernet image streaming
16-Bit, 14-Bit, 8-Bit
Video out
Available on request
Input/Output
Digital Input
2x electrically isolated; 5–24 VDC (max. 27 VDC)
Digital Output
2x electrically isolated; 5–24 VDC
Digital I/O, Supply Voltage
4.5–30 VDC, max. 100 mA
Encoder/resolver input
A+, A–, B+, B–; high-speed, dual RS-422/RS-485 receiver
Analog output
0–5 VDC
Analog input
0–5 VDC
Environmental
Protection Class
IP 67 (IEC 60529)
Operating Temperature Range
–40 to 60 °C (non condensing)
Storage Temperature Range
–50 to 80 °C (IEC 68-2-1 and IEC 68-2-2)
Humidity
0–95 % relative humidity (IEC 60068-2-30)
Bump
200 g (IEC 60068-2-29)
Vibration
4.3 g (IEC 60068-2-6)
RoHS
Compliant
Mechanical
Dimensions
I55 x 55 x 77 mm (w/o lens, w/ connectors)
Weight
270 g (w/o lens)
Lens mount
M34x0.5, M34x0.75, M46x0.75
Base mounting
4x M3 threaded holes (at all 4 sides)
Accessories
Adjustable mounting bracket, mounting adaptors, lens protection cap with Ge window, air barrier, terminal panel, protective enclosures (IRCamSafe series), focus tool
* Subject to dual use export regulations (for frame rates > 9 Hz).
()** Coming soon.
In infrared and hot gas welding of plastic parts, the temperature of the joining surfaces is of the utmost importance. Continuous monitoring of the ideal weld temperature along the entire weld seam is therefore crucial for quality assurance. One or more of the IRSX Thermal Smart Cameras can be directly integrated into the weld systems and provide real-time feedback. Hundreds of temperature measurements along the weld profile can be analyzed simultaneously. A custom IRSX Smart Camera App is available for this application.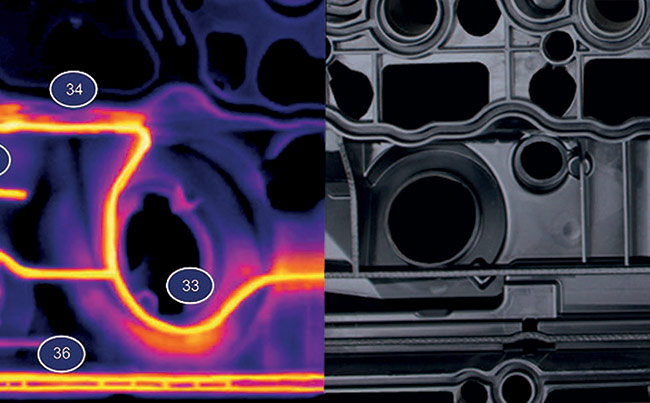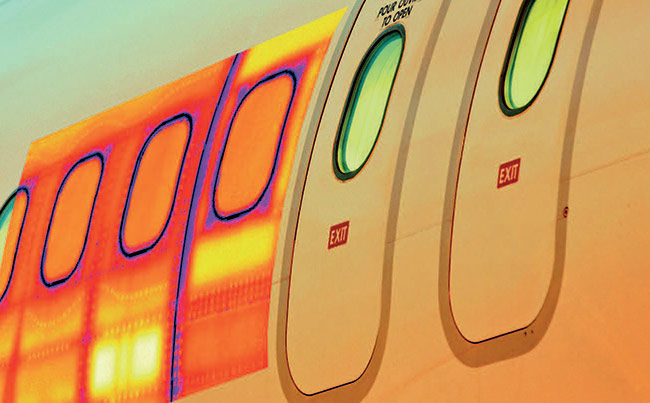 Active Thermography is used in many industries for non-destructive testing ("NDT") of components. During testing, the part is thermally excited. A thermal wave is generated that penetrates the part and propagates back to its surface. Any disturbances in the heat flow during this process manifest themselves as changes in thermal contrast on the part surface. These changes in thermal contrast can indicate defects, such as voids, delaminations or foreign object inclusions. A special NDT app is available for the IRSX Camera that allows for complex image processing of active thermography measurements.
Electrical Substations form central nodes in a power grid, which is why a technical failure can have far-reaching consequences. Power outages can affect entire cities and regions. An equipment failure can result in loss of revenue, fines and lasting damage to the power provider's reputation. Most failures of this nature can be spotted before they become a problem, using a thermal camera. With the IRSX Thermal Smart Cameras, these sorts of issues can be avoided. The smart camera continuously monitors the temperature of critical electrical components, such as transformers, bushings, bus bar or high-voltage switches. Temperature trends can be used to inform the operator of abnormal operating conditions. With several IRSX cameras, even large and complex substations can be monitored around the clock.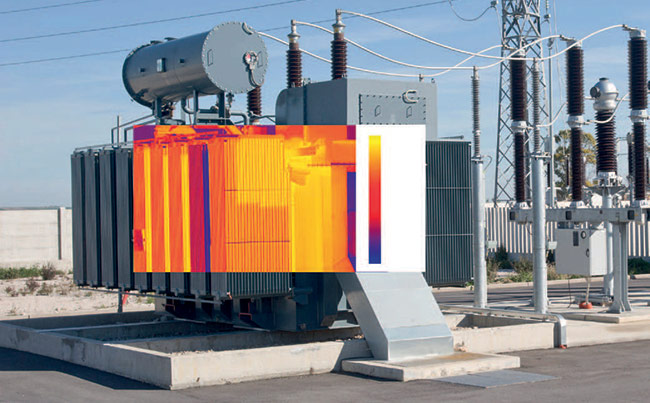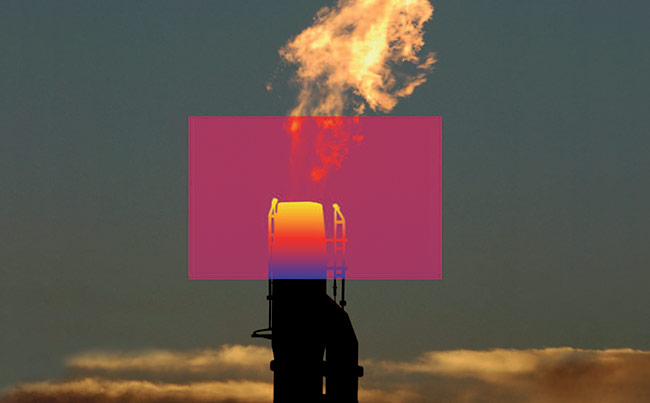 When flaring off excess gases in the oil & gas or chemical industry, a constant and stable pilot flame must be guaranteed. A pilot flame failure could lead to a release of harmful and explosive gases into the atmosphere. Flare operators are required to keep a 24/7 record of proof that the pilot flame(s) was always lit. Non-compliance can lead to steep penalties and fines. The IRSX Series Camera helps assure compliance with pilot and flare monitoring. These cameras measure the pilot independent of any weather conditions. The rugged and industrial design eliminates the need for any maintenance. Available long distance optics allows these cameras to be installed far away from the flare.
Steel manufacturers must detect and reduce slag content while the liquid steel is transferred from the oxygen steel converter or electric furnace to the ladle. Too much slag negatively impacts the purity of the steel. Using a thermal camera, such as the IRSX, allows for effective slag detection. This is due to the difference in emissivity between the molten steel and the slag. The IRSX camera is at the heart of our turnkey slag detection solution, designed for continuous operation under the extreme conditions typical of steel mills and delivering reliable results around the clock.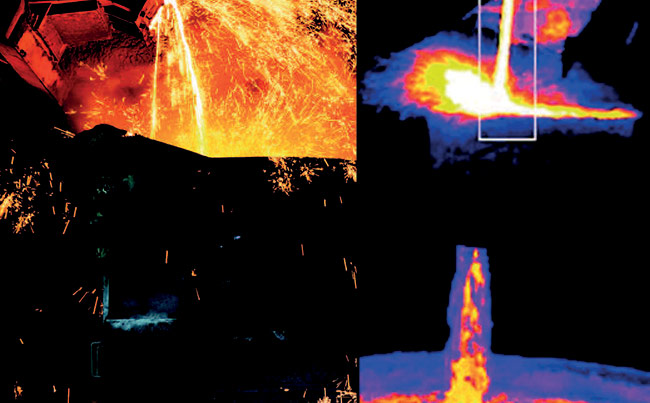 ---
Circuit Board and Electronic Component Inspection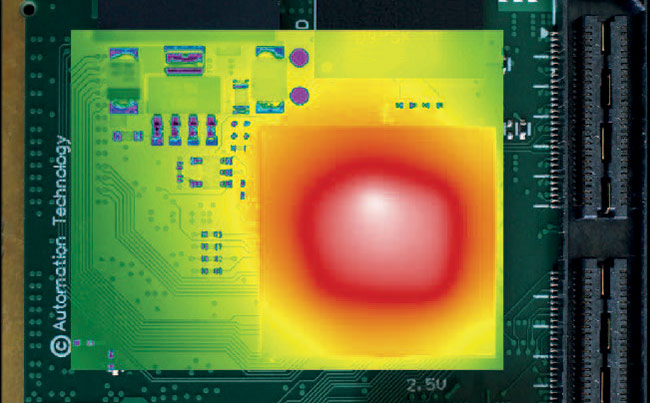 Functional testing on electronics, such as printed circuit boards and even individual electronic components is possible with a thermal camera. The thermal test can happen in conjunction with the electrical test and reveal thermal issues in addition to electrical characteristics of the circuit. Non-functional circuits are quickly identified by their missing thermal signature, while electrical shortcuts typically create a thermal hot spot. The IRSX camera is ideally suited for quality assurance in electronic manufacturing as well as in circuit development.
Flexible IRSX Camera Designs
The IRSX Cameras are available in three different configurations. A compact version with built-in, non-removable wide field of view (WFOV) lenses. A universal version with numerous, interchangeable lens options and an open frame version for OEM applications and custom designs. The OEM version is perfect for applications that require the camera to be housed in a more protective enclosure. MoviTHERM has a housing integration kit available upon request.
Compact Version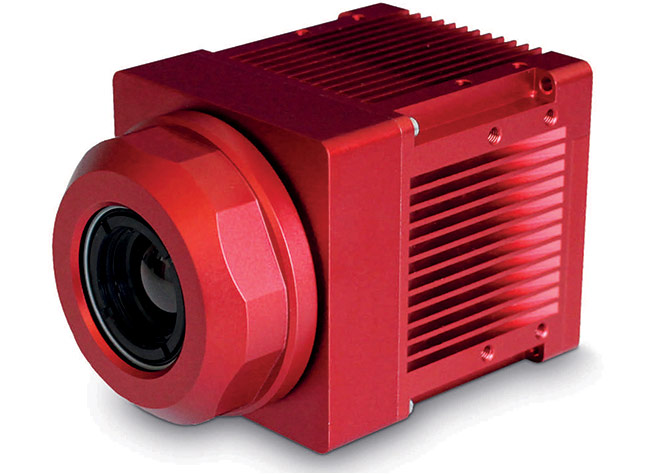 Easy Plug & Play Solution

Designed for WFOV lenses, with standard thread

Integrated Air Barrier for Lens Cleaning

Anodized Aluminum Enclosure
Universal Version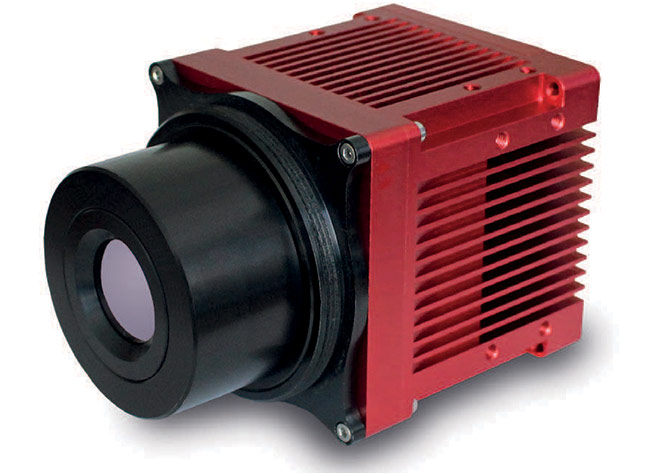 Highly Versatile Solution

Supports almost any available Lens

Anodized Aluminum Housing

IP67 rated Protection, requires Lens Cap
Open Version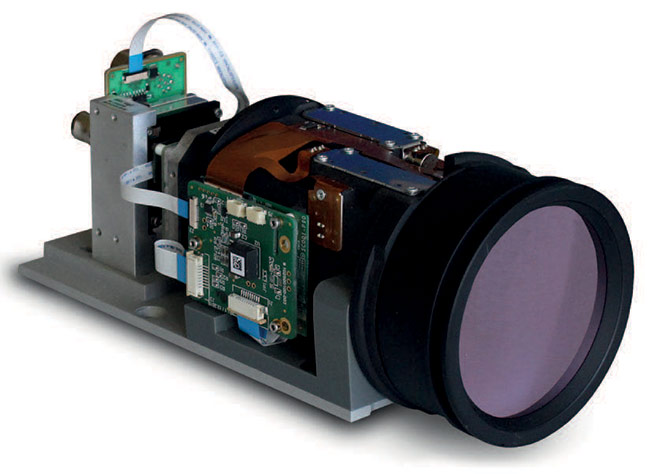 Flexible Solution for Customer-Specific Configurations (OEM)

Supports Lenses with Standard Thread

Integration into External Housing with Integration Kit

IP67 Protection when mounted inside suitable Housing
Flexible Lens Options for IRSX Smart Camera
In addition to the various IRSX Camera designs, we also offer a wide range of lenses to choose from. All lenses have been specifically designed and optimized to maximize measurement accuracy and performance. Large apertures assure the highest thermal sensitivity (NETD). Customer-specific focal lengths, e.g. large ones for monitoring distant objects, are available upon request.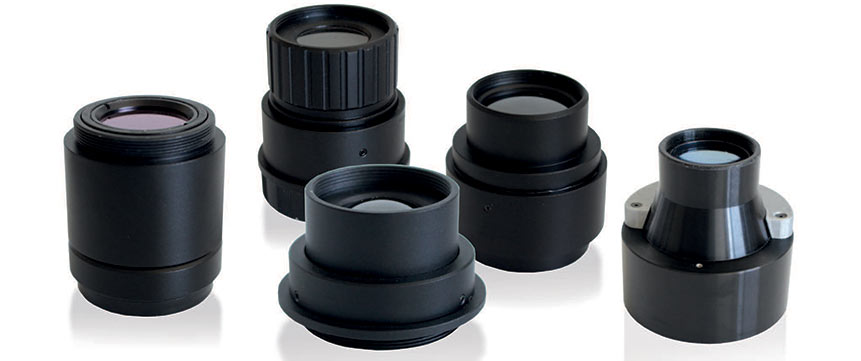 WFOV Lenses
Focal Length [mm]
Field of View [°]
F/#
Hyperfocal Distance [m]
MOD [mm]
Focus
IRS336
IRS640
3.8
94 x 72
–
1.4
1
10
Manual
7.5
45 x 35
90 x 69
1.4
1.2
25
Manual
9
35 x 27
69 x 56
1.25
1.7
32
Manual
13
25 x 19
45 x 37
1.25
4.4
76
Manual
19
17 x 13
32 x 26
1.25
9.5
153
Manual
35
9.3 x 7.1
18 x 14
1.5
35
600
Manual
---
Interchangeable Lenses
Focal Length [mm]
Field of View [°]
F/#
Hyperfocal Distance [m]
MOD [mm]
Focus
IRS336
IRS640
6
51 x 40
–
0.8
3
200
Manual
10
31 x 25
66.2 x 47
1
6
500
Manual
12
27 x 21
53 x 40
0.8
11
300
Manual
18
18 x 14
33 x 28
1
19
500
Manual
25
13 x 10
25 x 20
1.1
21
300
Manual
25
13 x 10
24.7 x 19.7
1
36.8
1000
Manual
35
9.3 x 7.1
18 x 14
1.2
35
600
Manual
60
5.5 x 4.2
10.4 x 8.3
1.25
94
1300
Manual
100
3.3 x 2.5
6.2 x 5
1.6
160
7000
Manual
---
Zoom Lenses
Focal Length [mm]
Field of View [°]
F/#
MOD [mm]
Focus
Zoom
IRS336
IRS640
35-105
3.1–9.3 x 2.3–7
6–17.7 x 4.7–14
1.6
7000
Motorized
Motorized
---
Microscope Lenses
Camera Model
Focal Length [mm]
Field of View/
Object Size [mm]
F/#
Spatial Resolution [μm]
Working Distance
Focus
IRS336
60.2
6.7 x 5.1
1.2
~20
12 mm, fixed
Manual
IRS640
60.27
12.8 x 10.2
1.2
~20
18 mm, fixed
Manual
Accessories for IRSX Smart Cameras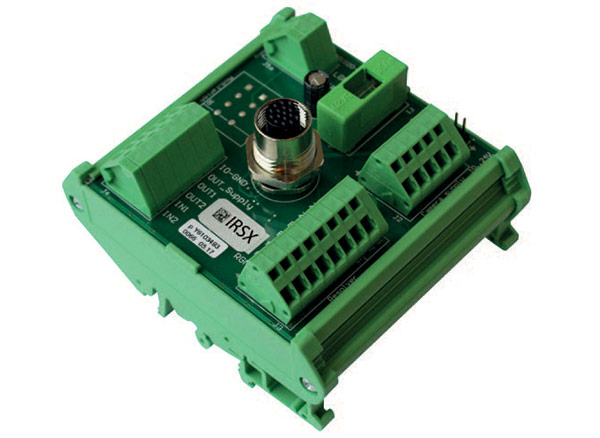 I/O Panel
A DIN rail mountable I/O panel is available for accessing all electrical signals and camera power. This accessory helps minimize the cabling effort and eases the integration of the IRSX Smart Camera. The I/O panel comes with a reverse polarity protection circuit and a 2A micro fuse for camera power.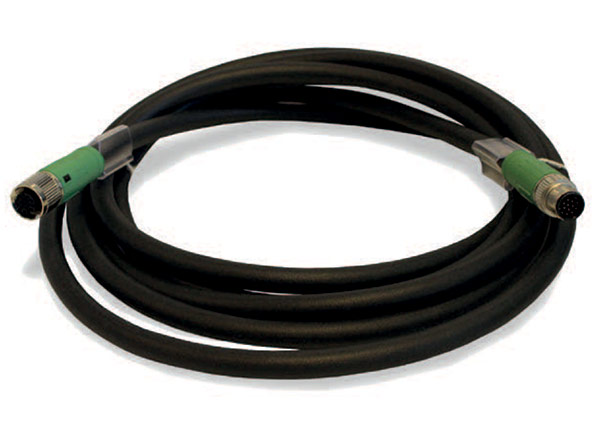 IRS Cable for Power and I/O
The IRS cableis required to connect the IRSX camera with the I/O panel. The cable is designed for heavy industrial use. It is equipped with M12 connector for IP67 protection. A pigtail version is available for connecting camera power and I/O without using the I/O panel.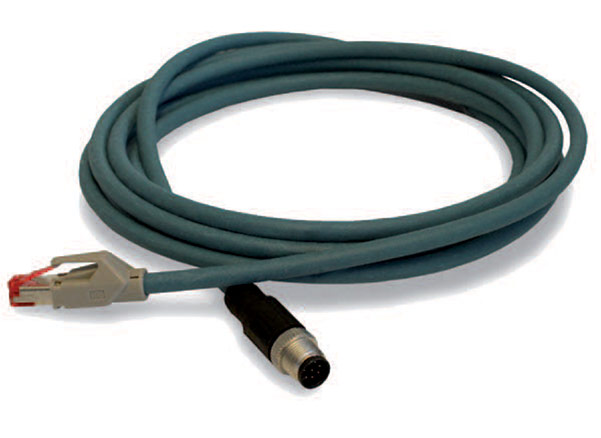 IRS GigE Cable
The IRS GigE Ethernet cable is terminated with M12 connectors for IP67 protection. The cable is available in various lengths.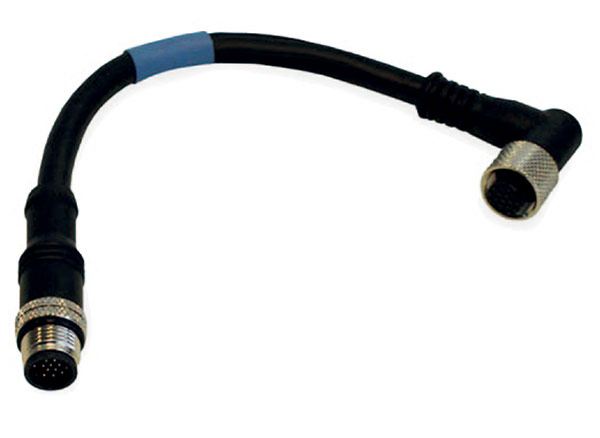 90° Adapter Cable
The integration of an IRSX camera often takes place in a small space where standard straight and M12 connectors can cause cable routing problems. A 90° adapter cable is a simple and elegant solution for this.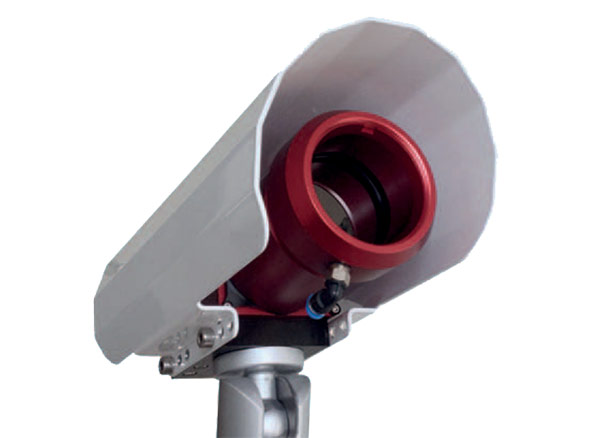 Sun Shield
A Sun Shield is available to protect the IRSX camera from rain, snow fall, dust and direct sunlight. The sun shield is available in plain anodized aluminum or in a white powder coated version. The shield attaches directly to the camera housing with screw connections for maximum stability.