MoviTHERM – Advanced Thermography Solutions to teach a three-hour clinic on Infrared Non-Destructive Testing at Inframation 2018
Irvine, CA – June 21st, 2018


MoviTHERM, a leading thermal imaging solutions provider, has been invited to teach an in-depth, three-hour class at this year's Inframation in Austin, TX. Inframation (http://www.inframation.org) is the world's largest thermal imaging training experience. It will take place on September 11-14, 2018 at the Hilton Austin, in Austin, TX.
The instructor for this class will be Markus Tarin, President & CEO of MoviTHERM. The class will be structured in a clinic style setting with hands-on demonstration using a real Infrared Non-Destructive Test System with Thermal Camera. The clinic itself is titled: "Active Thermography Techniques for Identifying Flaws in Aerospace Carbon Composite Structures" and is categorized as an introductory level class.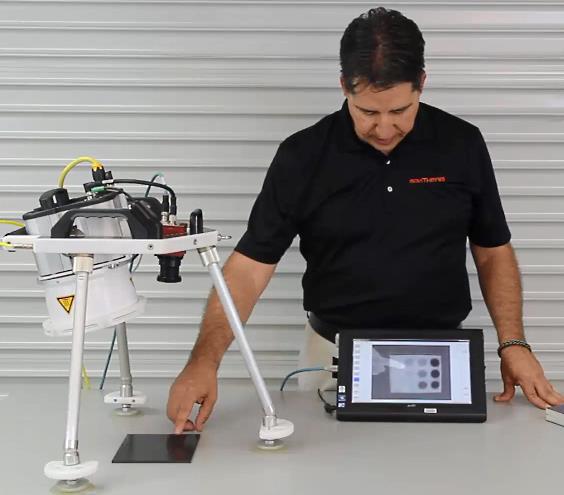 The clinic is scheduled to be held on:
Tuesday, September 11th, 2018 from 1:30pm to 5:00pm with a half an hour break.
The attendee will learn the difference between passive and active thermography. Provided will be a basic understanding of the most common active thermography techniques used in Infrared Non-Destructive Testing ("IR-NDT") such as Flash-, Pulse-, Transient and Lockin Thermography. After a solid theoretical foundation, the instructor will demonstrate the capabilities of these techniques using a real-world IR-NDT System. The attendee will take away a solid understanding of the capabilities and typical applications as well as limitations of this technology.
About the Instructor
Markus Tarin is the President & CEO of MoviTHERM – Advanced Thermography Solutions located in Irvine, CA. Mr. Tarin has over 18 years of experience in using infrared and thermal cameras for non-destructive testing as well as automated thermal imaging and remote monitoring applications. He has worked on numerous aerospace applications involving Boeing, Northrup Grumman, Raytheon, NASA, Lockheed Martin, US Army, SpaceX and many others. His work has contributed to programs such as the International Space Station, The Orion Mars & Deep Space Program, Weather Balloons, Flying Cars, Satellites, Rockets, Race Cars etc. Tarin is a Certified Vision Professional – Advanced and was the lead architect on many product development projects for defense, research, medical and industrial applications. Through his company he has commercialized many of these developments for remote monitoring, automated thermal imaging and non-destructive testing. MoviTHERM is a FLIR Master Distributor and Integrator.
About MoviTHERM (http://www.movitherm.com)
MoviTHERM – Advanced Thermography Solutions is a FLIR Systems, Inc. distributor and FLIR Premium Gold Parter. MoviTHERM sells Flir thermal cameras and application specific thermal imaging solutions. The company offers infrared thermal imaging systems for remote monitoring, automated thermal imaging and non-destructive testing. Thermal imaging solutions include: Non-Destructive Test Systems for Flash/Pulse Thermography, Transient Thermography and Lockin Thermography for Carbon Composites, thermal monitoring for electrical sub-stations, fire detection, critical vessel monitoring, condition and machine monitoring, gas flare stack monitoring, thermal package seal inspection systems, optical gas leak detection and many other temperature related process control and monitoring applications. MoviTHERM also provides components for integrators that would like to build their own thermal imaging systems, such as thermal cameras, protective housing and enclosures for aerospace, oil and gas, industrial, general manufacturing and research.
About Inframation
InfraMation 2018 is a high quality educational and networking conference for infrared thermographers. Whether you're a beginner or seasoned professional, InfraMation 2018 is your chance to accelerate your knowledge and proficiency in thermal imaging applications and techniques, learning from the experts in your industry. Join other thermal imaging experts to hone your skills through case studies, short courses, and informative learning labs.